Like all industries also the yacht industry is following trends. Private yacht manufacturers are monitoring these trends and are adapting their yachts and model range accordingly. The better these trends are anticipated the earlier motoryacht manufacturers are prepared for their impact. The global crisis of 2008 has shifted the demand for luxury goods. Not suggesting that luxury goods are out of demand but the entire luxury market has seen a split, which has left the middle tier luxury, offers on their respective shelves. The loss of the middle size luxury yacht segment is guiding motor yacht companies to adapt accordingly. In the high-end segment layout, health and wellness together with the latest toys and entertainment are essentials no manufacturer can do without.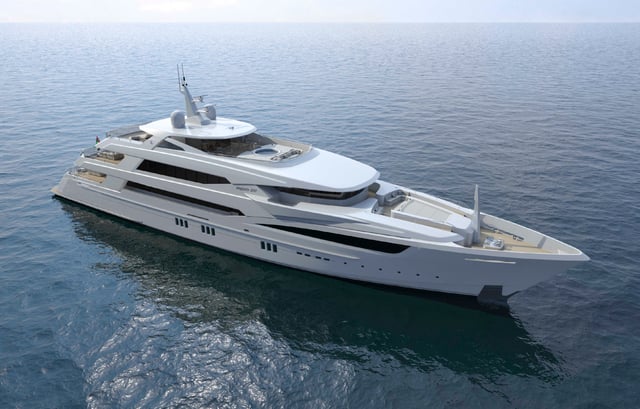 Open plan with pulsating interiors is replacing compartmentalized layouts. Yacht designers have to find ways to maximize space and create wide flowing living and resting areas, which are seamlessly in harmony with each other. The wellbeing and wellness aspects are as relevant as the outdoor areas, which need to make owners and guests feel at ease with the sea. A superyacht beach club atmosphere has to be created to make sure that the connection between the yacht and the sea is tangible. Open-air decks are a must have for all new yacht creations.
Entertainment areas with a movie room, pool table high-speed Internet are as much a necessity as hover boards, skibob and all other latest gadgets.  As owners want their yachts to exhibit their wealth, the size of the yacht plays an integral part in this process. Classic features of a mega yacht include extra decks, VIP cabins and yacht tenders.
Yacht manufacturer should not underestimate the charter market. Chartered yachts are the first step for a lot of people to get their first yachting experience. If they do not belong to the selected class of superrich, the likelihood that they will purchase a yacht known to them and experienced first-hand is very high.
Size always matters. Yacht manufacturers, which are currently producing yachts below the 200 m range have to move up to this level in order to attract the ultra-high wealth segment. Yachts between 100 and 200 ft have to be flexible with their interior design of living, wellness and entertainment spaces. The outer club deck experience is a must have in each yacht.  Manufacturers of Dubai yachts for sale and charter are moving more and more in the aforementioned yacht design directions.